Our initial conversations help make explicit what is often so implicit that you and others may not even be aware of. In any human system, there are an ongoing underlying dynamics.  Consequently, our approach to the work is as a journey, not necessarily a one-time event. Every conversation with a new client group involves questions to explore their human system.
Initial conversations allow us explore these questions:
What is your story?
What's going on?
How did you get to where you are?
What have you done so far – what's worked?  What has not worked?
What do you believe is the issue you're looking to work on?
What makes it so important?
What's the risk of doing nothing?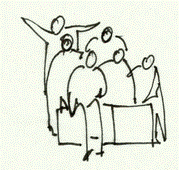 The reason for this line of inquiry is to mutually explore your context, getting a clear picture to mutually reflect on your situation and system…the life conditions. We believe the necessary wisdom is in the system and our job is to help reveal that, identifying strengths so as to draw upon them to build capacity. We rely on the data you generate to determine together the focus and extent of the work.
Deepening the Inquiry…
What do you think the problem is and how do you know that?
What are the indicators?
What do others think about the issue?
What assumptions are you making about the causes of the issue(s)?
What expectations do you have of us as consultants in helping you with this?
What would help look and feel like in your world? What would help not look like?
To what extent is this rippling throughout the whole system?
If everything got better, what's the best possible outcome?
Still curious about how your organizational culture might be reflected in our approach? Learn more >>